RCT-XTC912 Model Hang Glider Wing Only. Under-surface colors: Yellow/Pink/Blue. Mainsail: Purple/Blue

Note: Limaited availability. Delivery estimate: 10-15 business days.
ReallyCoolToys XTC9 Hang Glider (HG) Scale Model Wings are 1:4 scale HG wings inspired by their full-scale counterparts. Wing patterns are laser cut for maximum accuracy, fabricated by hand with outstanding attention to details and fit. XTC-9 Model Hang Glider Wing offered here is ready and will deliver within 2-3 weeks from the time payment is processed. Your purchase will include one complete wing, delivered unassembled. Does not include static or RC pilot, or any electronics.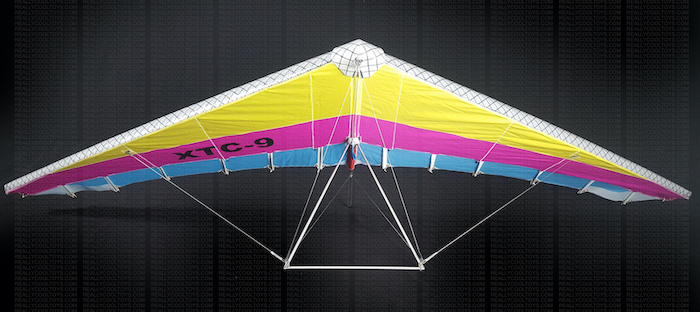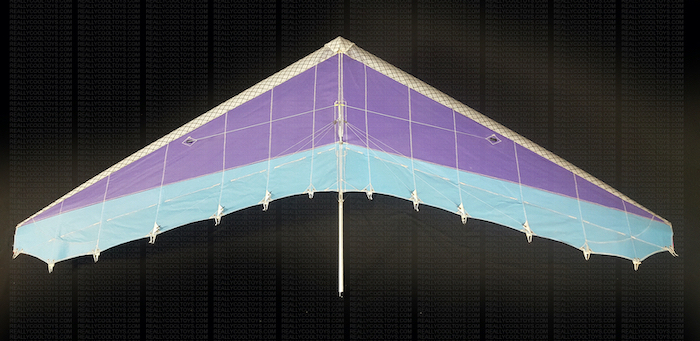 RCT model hang glider wings are commonly used for:

| | | |
| --- | --- | --- |
| Static Display | | Static display in museums, corporate lobbies/exhibits/events, flight schools, hobby shops, garages, etc. |
| RC Conversion | | RC conversion allowing RC hand launch, and powered flight, as well as winched/towed dolly launch. Note: RC conversion is recommended for experienced RC builders only, requires additional modification, fabrication, parts, weight-shift flight knowledge, and pilot experience. |
| | |
| --- | --- |
| | XTC/Slip Stream Wing Assembly Guide |
| | |
RCT-XTC912 Model Hang Glider Wing Only
Product Code: RCT XTC912 HG Wing
Availability: 10-15 Days