RC Rover® HBot Unmanned Ground Vehicle
RC Rover HBot Unmanned Ground Vehicle is an "H" shaped portable unmanned ground vehicle (UGV), designed for use in unmanned ground and hybrid operations, where DJI Inspire 1 or Inspire 2 drone mobile deployment is needed.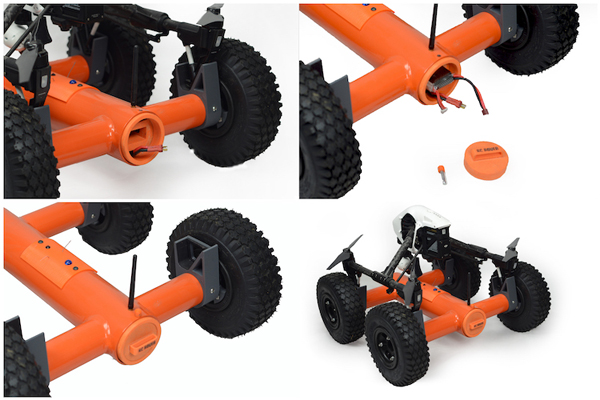 RCR HBot ay be used as a standalone unmanned ground vehicle or a mobile transport system to carry and deploy a DJI Inspire 1 or Inspire 2 drone for:
• field surveillance and inspection (indoor/outdoor)
• search, rescue, locator/beacon operations (all weather)
• scientific research and exploration of sub and surface terrain
• tactical, swat, and law enforcement crew support
• agricultural crop monitoring, mapping, and treatment
• building construction and solar array maintenance
• professional filming and videography
• telepresence and remote delivery
RCR HBot's chassis is made of aerospace grade aluminum, welded together, delivering a durable, capable of handling rugged terrain and use. Combined with four direct drive powerful planetary motors, the HBot features four wheel differential drive system that is both regenerative and programable to suit all types of operations, built to accomodate booth internal and externally attached payload.
RCR HBot Base Kit includes:

- Full aluminum chassis
- Axle mounts to carry a DJI inspire 1 or 2 drone onboard
- RC/PC Motor controller
- All metal high torque planetary drive motors
- PLA eXPANDHUB® wheel adapters
- 10" all terrain tires and wheels
- Multichannel 2.4Ghz remote control radio
- Stationary IR front camera
- 5.8Ghz wireless video transmitter
- 5.8Ghz wireless video Receiver/LCD monitor
- Lipo/Li-ion battery compartment
Also see RC Rover® HBot DJI Inspire 1/Inspire 2 Kit.
Large Transport Case
Customized to house RC Rover UGV and accessories. Large 2-person fold down handles. Fully Customized to contain UGV when ordered with UGV (sold separately). 4 strong polyurethane wheels with stainless steel bearings. Watertight, crushproof, and dust-proof. Open cell core with solid wall design - strong, light weight. Retractable extension handle.
Specifications
General
TRANSPORT CASE: Large 2-person fold down handles. Fully Customized to contain UGV when ordered with UGV (sold separately). 4 strong polyurethane wheels with stainless steel bearings Watertight, crushproof, and dustproof Open cell core with solid wall design - strong, light weight Retractable extension handle
RC ROVER HBot Unmanned Ground Vehicle
Product Code: Hbot Unmanned Vehicle
Availability: In Stock