BMP RC Paraglider/Hang Glider Pilot
BMP Pilot is a 1:5 scale RC Hang Glider and RC Paraglider Pilot, additionally used for a variety of RC and static model projects, in scale planes, cars, tucks, and boats.
BMP Pilot is compatible with a variety of 2-3 meter, 1:5 scale Hang Glider wings including the 1:5 scale RCT SlipStream-6 Hang Glider Wing, and the BMP 2.5 Sport Paraglider wing. The BMP RC Hang Glider pilot controls a hang glider movement in flight by weight-shift. See set up video below:
HG Arm




Each arm is made of two sections, upper and lower. Each operated by a standard size servo (sold separately). The flexible lower arm provides impact resistance during flight and landing (optional hard/rigid lower arm also available). The two-section arms working together, deliver scale-realistic upper/lower arm movement and scaled range of motion.

Note:

To assure successful RC flight/soaring, it is critical to properly set the pilot's hang distance from the wing's hang point in order to assure proper CB/CG, and to make sure servo/arm movements are not restricted. The HG pilot's hands attach to control bar using velcro or zip ties. The optional rigid arms slides onto tehe control bar and is locked in position with tw collar locks.. Ballast or heavier/longer 2S/3S Lipo flight pack may be used to adjust CB/CG as needed, and to soften/decrease or tighten/increase control response. Optionally, two additional standard size servos may be used to control the pilot's legs to maximize weight-shift response.




Para Arm




Each arm is made of one solid section, controlling left and right brake lines. It is important to make sure the paraglider wing can not inflate or allow take off once brake lines (pilot's arms) are pulled down all the way. To assure proper set up for hand launch and flight, the paraglider wing should inflate fully with brake lines released.




Standard size plastic or metal-geared Futaba servos may be used depending on set up, flight weight, size of wing/airfoil, and motor size. A 9G micro servo and ball link maybe added to control head/neck movement.
The BMP RC Hang Glider and Paraglider pilot arms are designed to directly mount onto standard Futaba servo. Optionally, servo horns may be screwed directly onto each arm. MBP RC 1:5 Scale RC Pilot's legs and feet may be omitted when installing pilot into RC plane cockpit, cars, trucks, boats, and other scale vehicles.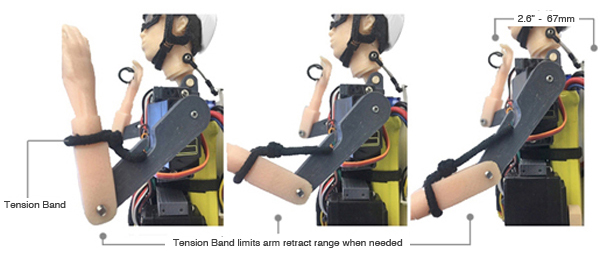 Create your pilot by adding individual components or purchase the BMP RC pilot kits here. BMP Pilot's body components are made of biodegradable hard and soft plastic material, designed for optimum performance, durability, and value. Inherent esthetic imperfections associated with printed parts maybe improved and refinished as desired. BMP Pilot's Jumpsuit and Pilot Harness are sold separately, subject to availability. The BMP pilot may be used with 2S-3S 1300-2200mAh Lipo battery and compact 2.4Ghz receiver.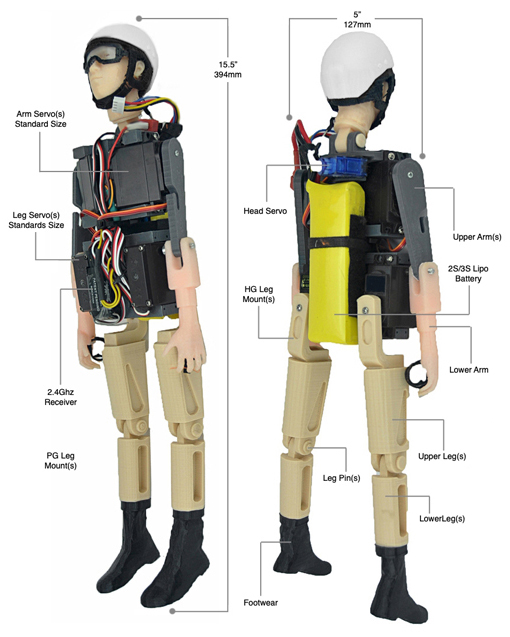 BMP RC Hang Glider Pilot Kit includes:
Pilot Torso
Head
Helmet with Liner
Helmet Goggles
Two Piece Hang Glider Arms
Legs
Footwear

BMP RC Paraglider Pilot Kit includes:
Pilot Torso
Head
Helmet with Liner
Helmet Goggles
One Piece Paraglider Arms
Legs
Footwear
Also see: BMP JUMBO RC Hang Glider Pilot (1:4 Scale)

BMP RC Pilot Torso (1:5 Scale)
RCT SlipStream Hang Glider Wing (1:3, 1:4, 1:5 Scale)
RCT SlipStream Static Pilot and Harness (1:4 Scale)
Specifications
General
• Scale: 1:4/1:5 • Length: 15.5" (394mm) • Width: 5" (127mm) • Height: 2.6" 67mm
Estimated Delivery Schedule
Estimated Delivery
Check Availability
BMP RC Hang Glider Paraglider Pilot
Product Code: BMP Pilot
Availability: In Stock