RCT SlipStream Static Hang Glider Pilot and Harness

RCT SlipStream Hang Glider Pilot, is a silicone-molded, horizontal-leaning none-articulated pilot, positioned with harness to mimic scale-realistic position in flight. The Static model with flight-bag harness, hang line, and buckle, attaches to the hang point of the RCT XTC/SlipStream scale Hang glider wing.

RCT SS Static Pilot is made of light flexible polyurethane foam, with soft grip to gently hold the control bar for static display use only.

The harness may be used for RC conversion use, housing the Scale 1:4 BMPJumbo RC Hang Glider Pilot, pilot battery pack (3S-6S Lipo) and RC receiver.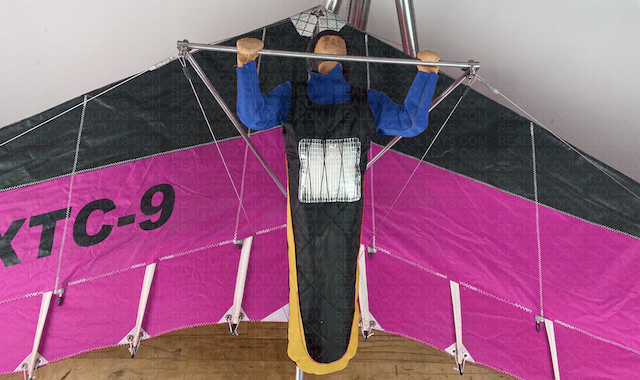 Note: RC conversion is recommended for experienced RC builders only, requiring additional modification, fabrication, parts, weight-shift flight knowledge, set up, and pilot experience.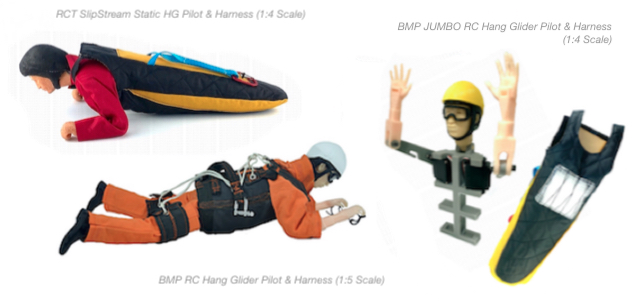 Note: Discount applies for quantity (2 or more) and bundle (i.e., Pilot and Wing) purchases, please Contact us for pricing and availability.
Also see: BMP RC Pilot (1:5 Scale)
BMP RC Pilot Torso (1:5 Scale)
RCT SlipStream Hang Glider Wing (1:3, 1:4, 1:5 Scale)
BMP JUMBO RC Hang Glider Pilot (1:4 Scale)
RCT SlipStream Static Hang Glider Pilot with Harness
Product Code: RCT SlipStream Static Hang Glider Pilot with Harness
Availability: Check Availability