ReallyCoolToys XTC/SlipStream Hang Glider Scale (1:3/1:4/1:5) Model Wings are inspired by their full-scale counterparts. Wing patterns are laser cut for maximum accuracy, fabricated by hand with outstanding attention to details and fit. Each SlipStream Scale Model Hang Glider is made-to-order from our catalog or customized as needed. Production time varies between 3-8 weeks depending on model, size, customization, and schedule load. For pilot options see: BMP JUMBO RC Hang Glider Pilot (1:4 Scale), BMP RC Pilot (1:5 Scale), and RCT SlipStream Static Hang Glider Pilot (1:5 Scale).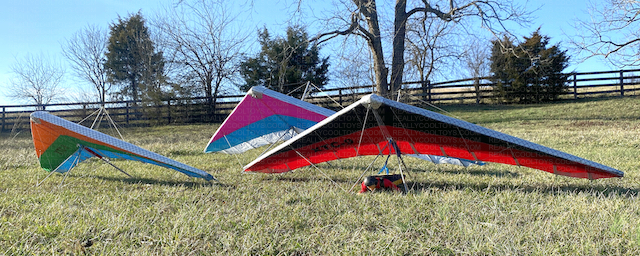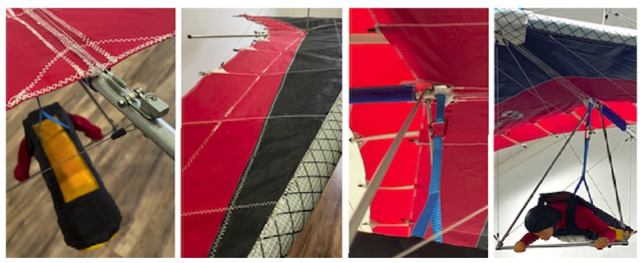 RCT XTC/SlipStream Model Hang Glider Wings from our RCT XTC/SlipStream Catalog (PDF) are offered in three variations:
SlipStream-16 1:3 Scale (16sqft)
SlipStream-9 1:4 Scale (9sqft)
SlipStream-6 1:5 Scale (6sqf)
See RCT XTC/SlipStream Assembly Guide (PDF)
A color chart is provided to allow further customizition of wing color/color pattern. Additional customization is offered if needed.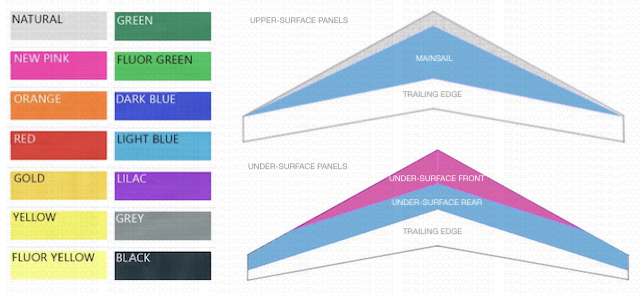 Optionally, a static pilot with harness is offered in matching scale and color, subject to availability.
The BMP Articulated Pilot, enables RC demonstration of weight shift-control for flight school/training. It additionally allows RC hand launch and RC towing from dolly.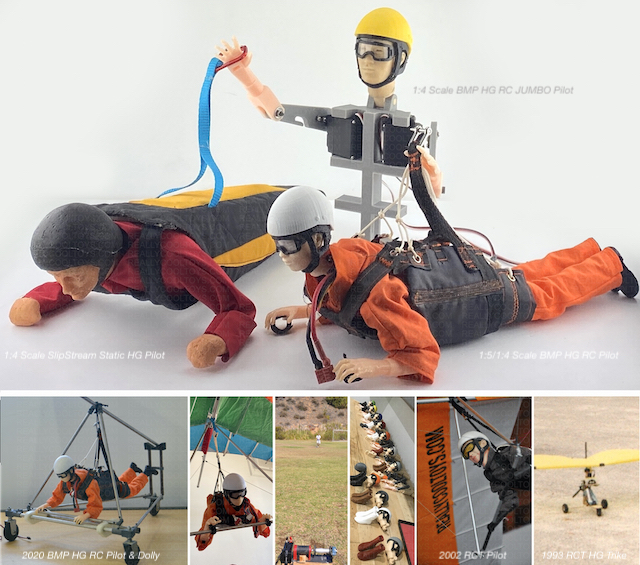 RCT model hang glider wings are commonly used for:
| | | |
| --- | --- | --- |
| Static Display | | Static display in museums, corporate lobbies/exhibits/events, flight schools, hobby shops, garages, etc. |
| RC Conversion | | RC conversion allowing RC hand launch, and powered flight (gas operated trike, 1993), as well as winched/towed dolly launch (since 2002). Note: RC conversion is recommended for experienced RC builders only, requires additional modification, fabrication, parts, weight-shift flight knowledge, and pilot experience. |

Each RCT SlipStream wing (Shown aboove: RTC SlipStream-16) is uniquely built, true to scale, with quality of materials and workmanship second to none.
| | |
| --- | --- |
| | XTC/SlipStream-9 (1:4 Scale) Assembly Video - 1:4 Scale |
| | XTC/SlipStream-16 (1:3 Scale) Assembly Guide Video |
Note: Discount applies for quantity (2 or more) and bundle (i.e., Wing and Pilot) purchases, please Contact us for pricing and availability.

Also see: BMP RC Pilot (1:5 Scale)
BMP RC Pilot Torso (1:5 Scale)
RCT SlipStream Static Hang Glider Pilot (1:4 Scale)
BMP JUMBO RC Hang Glider Pilot (1:4 Scale)
RCT SlipStream Scale Model Hang Glider
Product Code: RCT SS Scale Hang Glider
Availability: Check Availability